Should you buy gold bullion in order to invest? What are the advantages of this particular form of investment? This method of making money is increasingly popular, especially since other types of investments, such as state bonds, have become less and less appealing.
In this guide, we will see together what we can expect from this type of investment, the purchase of gold bars, behind which a series of considerations that we cannot ignore before taking such an important decision, especially for the fact that we are going to have to invest money and real capital.
The Investment In Physical Gold: What Is It?
Investing in physical gold literally means going to buy small ingots (which can be a few grams or something larger) in order to keep this precious metal as a store of value. Gold is always considered a haven to invest your capital, especially in times of high turbulence in the markets.
After all, it is precisely for this reason that they gave (and sometimes still give) gold during baptisms, communions, and weddings: the old tradition was to provide the newly formed family with a store of value, and in case of an unexpected incident, it would be sold quickly to cover those extra costs. Nowadays it is not used as a gift, but even so gold, including the physical, remains one of the favorite options of families and investors with a vision of the future.
But what do we mean by "physical gold"? Is there a non-physical one? When we speak of physical gold we refer to gold ingots (or jewels), in contrast to those that can be investments in "virtual" gold.
Investment In Physical Gold Or Gold Reserves
The differences are not really many. People who invest in financial markets, and in particular derivatives and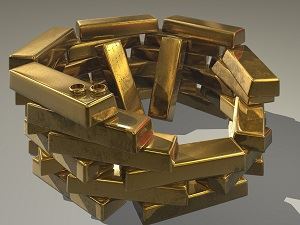 currency, will already be familiar with the purchase of underlying gold securities.
In addition, almost all banks operating in the country have long been a "gold deposit," by which you would not have to take it directly to the bank, but you can also buy coupons that represent the metal.
Those who want to invest in physical gold will try to buy the physical metal in small ingots and will keep it in their house (the most common is to have it in a safe) or in an external storage.
These are all differences. Regarding the similarities between the two forms of investment, we have:
The prices are identical and are global; but when you are going to buy or sell physical gold, you must also take into account the extra expenses that could come up from the jeweller or the resale.
It is clear that both are safe investments. They have values that tend to be less volatile, especially in the long term: those who want to keep the gold for long periods are almost certain that the price of gold is going to hold that since it is almost always re-evaluated.
There are, on the other hand, significant differences between the "values" of gold and gold in physics, such as the difficulties that can be encountered in maintaining and preserving a precious metal of this value.
Who Should Invest In Gold Bullion?
Investment in gold bullion is interesting for many types of savers: those who want a reserve of decent value and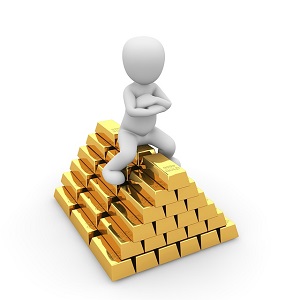 those who have an interest in maintaining a lasting asset; but in both cases, those who do not want to take high risks, since gold prices tend to move more even though they have not known significant declines for more than a decade.
However, it does not mean that gold bullion is the perfect investment, capable of satisfying everyone and offering increasing returns. Are we sure that investing in gold is worth it?
Gold is going through a phase of record highs; it is among the highest recorded of this metal. Prices are still very high and entering the market now may not seem like a great option. Gold, whether in bullion or another mode of investment, has a price that in fact tends to increase precisely when the economy is not on track, or when investors do not really know where to invest and end up deciding for the safest, the precious metals.
There is no guarantee that in the short or long term gold prices will begin to fall. The gold that is sold in jewellery stores is the investment of gold. It is guaranteed, weighted, certified and can be used without any problem for the investments we want to make in gold. It is a kind of new trend, but it operates in a much more restricted and complicated diamond market.
The fact of deferring in carats – which in this case means the weight of the diamond, by color, quality, cut, not to mention the two levels of purity. It is not interesting to invest in diamonds, but the differences in the investment in gold are quite broad.
Invest In Gold Or Precious Stones?
Should I invest in gold or diamonds? The decision is not simple because nothing can assure us that the first does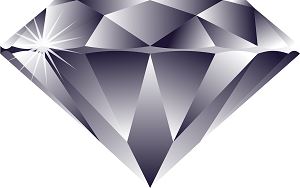 more than the second for the future. The diamond market is also one of those that, despite the crisis, seems to keep pulling with prices that also remained stable during the darkest period of crisis.
When choosing to invest in any of them, we must take into account some details that differentiate these two options: gold is exceptionally liquid in the sense that it can be sold very quickly at competitive prices without worrying too much about finding a buyer.
Other precious stones and diamond, in particular, have less market than gold. Gold is easy to sell because it always tends to have the same values (long term). Entirely different is the story for those who trade with diamonds: instead, as we have seen above, by size, color, clarity, cut, and this makes the market very uneven, gold is a safe haven for a long time and probably follows being it during the future.
The Purchase Of Gold
Buying gold is extremely easy, especially if we want to buy the physical metal and not some title that represents it.
Gold bullion can be easily bought in ingots: jewellers, always have ingots in a stock of different sizes and in case you need large ingots, you can always ask them without any problem. However, the jeweller prefers the professional gold operator, because he can sell it without VAT, so it is much more attractive for potential investors since we are not going to buy a financial product that has applied VAT.
Look for a detailed list of these operators on the US Mint website. In case you are registered in this particular register, as well as to sell the gold in the size of your choice, you can also operate without VAT, which is very advantageous.
Gold Pounds – What It Is And How To Invest
Each state issues special gold coins that are considered savings as material for large investors. The pound is just one of several currencies that can be purchased.
Do you want to buy gold or physical metal? You can check here. Banks always push you to buy gold stocks because they are extremely easy to manage. It also does not need special care, it cannot be stolen, and it must not be stored in boxes. It is straightforward, since having physical gold continues to exert a strong influence, especially now that we are moving in the world of investments.
Our personal recommendation to safeguard your future with gold is to contact Regal Assets, The #1 Rated Gold Investment Company 7 years in a row, Click Here To Request A FREE Gold Investors Kit.