Before choosing any company as the custodian of your Gold IRA, it's extremely important to carry out extensive research and follow due diligence. Your Gold IRA or any other type of IRA is your retirement plan; thus you need to be extra careful in choosing the organization to entrust with your retirement funds.
There are hundreds of Gold IRA companies in the United States of America, and many have been accused of shortchanging their customers and fleecing them of their retirement funds through careless investment decisions. But you don't want any ugly stories with regards to your IRA if you want a peaceful and comfortable retirement life. To help you choose wisely, we have compiled a list of the best Gold IRA companies using the latest industry and consumer ranking metrics including the BBB, BCA, and TrustLink review boards.
When researching a Gold IRA company, there are many factors to consider. Here are some things to look out for before choosing the ideal Gold IRA company.
Reputation
The most important thing to look out for when choosing a Gold IRA company is their reputation. A company with
an impressive track record of keeping to their word and protecting their customers' assets no matter the economic situation is the ideal gold IRA provider. One of the things to check is the number of years the company has been active in the industry and how satisfied customers are with their delivery. You want a company with impeccable customer support as this is extremely important when you need guidance on making weighty financial decisions that could make or break your retirement investments. Check out the Better Business Bureau BBB, Business Consumer Alliance BCA, and the TrustLink reviews to know more about a company's ratings. Most companies with an excellent track record usually have positive ratings from these review agencies.
Fees
You also need to be clear about the fees your preferred company will charge for operating your Gold IRA account.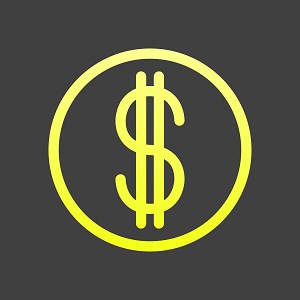 Operating a gold IRA requires you to pay provider, custodian and depository fees.
Provider fees include the fees for opening an account, transaction fees, and account maintenance fees. Different IRA companies charge different fees, so you need to check with the provider that offers the most competitive rates. It's best to choose a provider with flat annual fees as they keep your fees constant and are better than companies that offer a scaled fee model which increases with the size of the account.
Also, you need to pay for every transaction on your gold IRA account whether you are buying or selling assets in the account. You also need to pay administration fees for the maintenance of your gold IRA account. While many custodians offer different maintenance fees, it's important to choose an IRA provider whose fees will not hurt the outlook of your gold IRA as all these charges will be deducted from the funds in your gold IRA and can make a huge difference in your monthly balance.
Depository
Another thing to consider when choosing a gold IRA company is the depository used by the company for the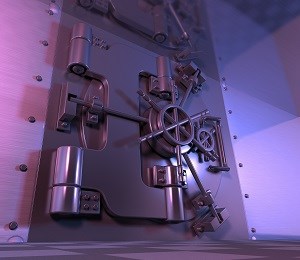 storage of your precious metal holdings. The precious metals from your gold IRA must be kept in an IRS-licensed depository for it to maintain its tax-deferred status. It's important to choose wisely the depository to keep your investments safe and secure.
The storage fee differs from one depository to another and the type of storage that you want. If you want segregated storage where your precious metals are stored separately from that of other investors, you may need to pay additional fees for the annual storage fees. Be sure to choose a depository with a proven track record of excellence that will guarantee the safety of your investments. Also, be sure to select a depository that does not take ownership of your metals during storage. This is important to prevent losing your assets in case the depository faces any legal action that threatens its assets. The depository should also be insured in case of any mishaps to safeguard your investments.
You also need to ask your provider the following questions
Price
Before buying any precious metals from your provider, be sure to ascertain the price of the metal. Are they selling at the current price displayed on their website or higher? You need to be sure to avoid buying your metals at an exorbitant price.
Delivery Time
It's also important to choose a company that offers a fast delivery process. Paperwork and transactions should be wrapped up in two-three days, and your precious metals should be delivered within seven working days.
Accommodation For A Diverse Range of Assets
The gold IRA is self-directed, making it possible to add a wide variety of assets in its portfolio. However, not every gold IRA provider support all these options. This makes it imperative to ask a provider if they support the types of assets you which to invest in with your gold IRA funds before signing any agreements.
Top IRA Companies
Considering the factors stated above, here is a list of the best IRA companies.
Regal Assets
Regal Assets tops the list because of its excellent ratings and impressive track record over the years.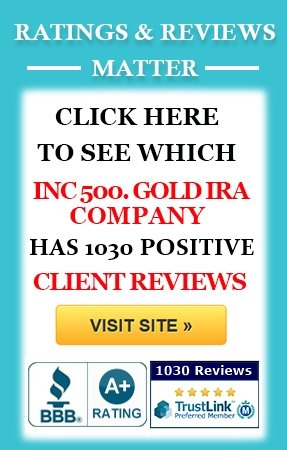 Regal Assets has an A+ rating with the Better Business Bureau BBB. Additionally, the company has not recorded any customer complaints in the last three years, making it an extremely customer-centric IRA company.
Also, Regal Assets has a triple-A rating from the BCA, making it one of the many companies with exemplary conduct.
On the TrustLink rating website, Regal Assets is the only company with over one thousand positive reviews. This is an excellent achievement given that these reviews are written by previous customers to show others their level of satisfaction with the company's conduct. Regal Assets was also ranked 20th on the top 500 US companies in the financial sector, out of over six million companies active in the industry. It also provides a flat rate of $250 per year with the first year free.
Additionally, Regal Assets provides a live recording of your precious metal as it arrives at the depository, and also operates a private depository. Regal Assets also offers segregated storage to its customers and customers can also opt to store their metals abroad tax and penalty free. The company also offers a buyback policy and a 7-day guarantee on shipping for direct purchases and retirement accounts.
Advantage Gold
Advantage Gold is also an excellent gold IRA company. The firm has an A+ rating from BBB and about 200 positive reviews from TrustLink reviews among others. The company does not have any lawsuits and offers a flat-rate fee of $250 per year.
American Bullion
American Bullion is also a reputable gold IRA company. The firm also has an A+ rating with BBB and AAA rating from the BCA. It has 38 positive reviews from TrustLink reviews and offers a flat rate of $250 per year. The company is not involved in any lawsuits with its customers although there are four complaints about it in the BBB reviews.
Many other gold IRA companies offer great value for money, but these are some best in the industry. Remember, your ideal gold IRA company should have a solid reputation spanning many years in the industry, have professional and highly responsive customer support, and provide premium service delivery at a competitive rate.
Our personal recommendation to safeguard your future with gold is to contact Regal Assets, The #1 Rated Gold Investment Company 7 years in a row, Click Here To Request A FREE Gold Investors Kit.